Search for
'{{search_term}}'
Implementing a Markua Parser in Perl 5
Markua is a Magical Typewriter. It is a Markdown-inspired format to write books. It was created by Peter Armstrong and used by LeanPub for writing books.
In this project I am going to create a Markua parser in Perl 5, or at least I start doing it and will implement enough of it so I can start writing the Perl Maven articles in Markua. That will allow me to easily include Perl Maven articles in an eBook published on LeanPub. For example to create the eBook of the Perl Maven Tutorial.
TODO
Some of my plans in not necessarily the right order
Parse all the headers h1-h6 tags
Free text (paragraph)
Include file
Embed image
Embed code
Inline code
Bold text
Bullet points: both numbered and plain
Some horizontal separator like the

hr

tag of HTML?
Some way to separate an "abstract" that will be displayed on the front page.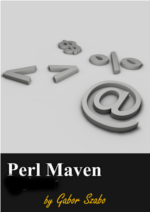 Comments
In the comments, please wrap your code snippets within <pre> </pre> tags and use spaces for indentation.
comments powered by

Disqus