Perl tutorials and courses
Modern Perl Web Frameworks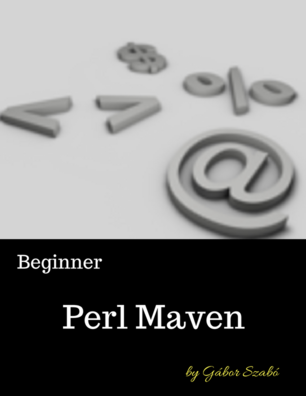 Object Oriented Perl
Other Series
Projects and Collections
Code-Maven series
If you need to
maintain a large piece of software
written in Perl by other people in the last 5-10-15 years, that's a challenge. Especially if you did not get proper training in Perl. You are probably limited to a specific and old version of Perl. Check out, the
Perl tutorial
! You can probably skip the part about installing Perl, but the rest of the tutorial will be relevant for you.
Perl is often used in
Test Automation
. If you work in this field, or if you'd like to work in this field (it is much more fun to find bugs in other people's code than in yours :), then you can read the
Perl tutorial
and the series on
Test Automation using Perl
.
In the off chance you are interested in topics other than Perl, especially related to Test Automation, Continuous Integration, Continuous Deployment, DevOps, then you are welcome to check out the list of
DevOps related training courses
.
Recent Articles
In every earlier test-case we created the Markua input file manually and then we created the expected DOM in JSON representation also manually.
When we implemented the parsing and testing of Markua resources we ran the tests first and then took the dump of the error message and used that to create the JSON representation of both the DOM and the error report. It was a bit of unnecessary manual work. After all we could convert the generated DOM to JSON. Look at it to verify that we really want that to be the expected results and then save it as the expected JSON.
How can we make this easier?
---
---
The next Markua element we'd like to be able to parse are used to include files. The same format can be used to include text files in various format (e.g. Perl, Python, YAML, etc.) or images. They are all called resources.
The format looks like this.

![TITLE](PATH_TO_FILE)

---