Search for
'{{search_term}}'
Perl tutorial
The Perl Maven tutorial will teach you the basics of the Perl programming language. You'll be able to write simple scripts, analyze log files and read and write CSV files. Just to name a few common tasks.
You'll learn how to use the CPAN and several specific CPAN modules.
It will be a good foundation for you to build on.
The free on-line version of the tutorial is currently in development. Many parts are ready. Additional parts are being published every few days. The latest one was published on Oct 6, 2017. If you are interested in getting updated when new parts are published, please subscribe to the newsletter.
There is also an e-book version of the material available for purchase. In addition to the free tutorial, that version also includes the slides from the corresponding course including many exercises and their solutions. The course material covers all the parts, including the areas that are not yet covered in the free version.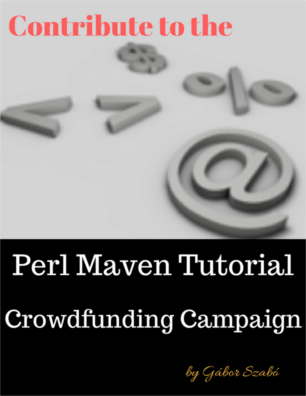 The companion
video-course
includes over 210 screencasts, a total of more than 5 hours of video. In addition to presenting the material it also provides explanations to the solutions of all the exercise. The package also includes the source code of all the examples and exercises.
Free on-line Beginner Perl Maven tutorial
In this tutorial you are going to learn how to use the Perl 5 programming language to get your job done.
You will learn both general language features, and extensions or libraries or as the Perl programmers call them modules. We will see both standard modules, that come with perl and 3rd-party modules, that we install from CPAN.
When it is possible I'll try to teach things in a very task oriented way. I'll draw up tasks and then we'll learn the necessary tools to solve them. Where possible I'll also direct you to some exercises you can do to practice what you have learned.
Introduction
Scalars
Files
Lists and Arrays
Subroutines
Hashes, arrays
Regular Expressions
Perl and Shell related functionality
Traversing directory tree manually with recursion, manually using a queue and using find.
CPAN
Few examples for using Perl
Common warnings and error messages
Other
Object Oriented Perl with Moose or Moo
There is a whole series of articles on writing Object Oriented code, using the light-weight Moo OOP framework or the full-blown Moose OOP framework.
---
Just a reminder, there are corresponding e-books and video courses available.